PT81 WINNERS ANNOUNCED!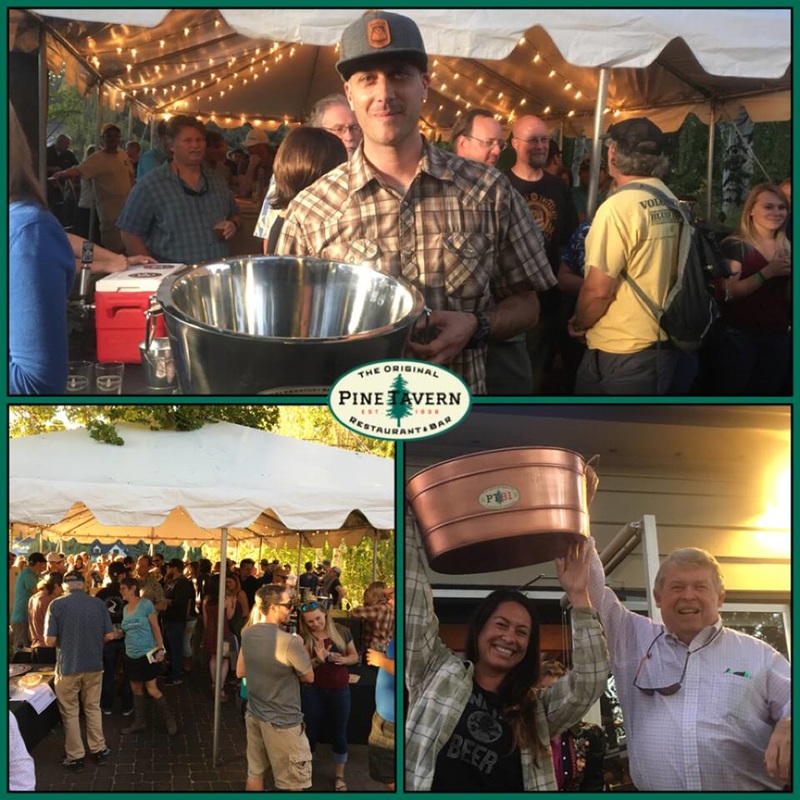 Congratulations to Goodlife Brewing for winning our PT81 Event and becoming our next great Pale Ale. Boneyard Brewing won the "Peoples Choice" Award and will be featured on our taps as well!
Thanks to everyone who participated and helped make this a Great Event!!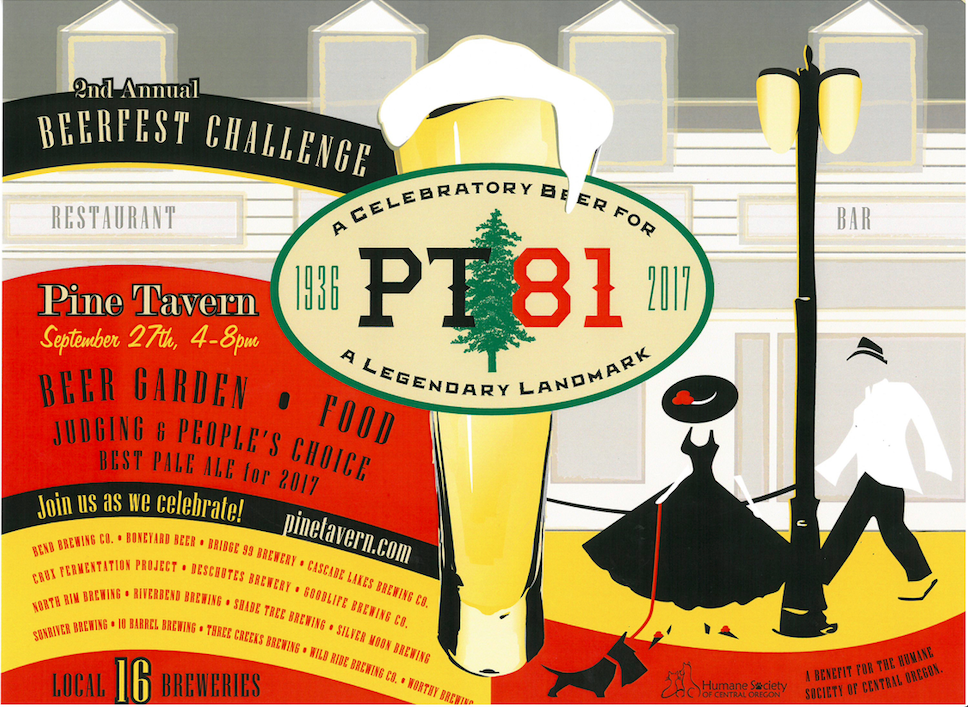 PT81 BEERFEST CHALLENGE IS SET FOR SEPTEMBER 27TH!
Central Oregon's best breweries will compete to be our next signature beer and you can help be a Judge!
The Pine Tavern Restaurant and Bar will host the 2nd annual PT81 Beerfest Challenge on September 27, 2016 at 4pm.
Sixteen Central Oregon breweries will be competing to be our next signature "PT81 Pale Ale" and will be judged by local experts and all beer fans! The aim of the competition is to select a winning beer and brewery and celebrate the craft beer industry in Bend! Must be 21 and over. No pets please.
The Price is $15 which includes a Pine Tavern Pint glass and 8 tasting tokens.
​Proceeds of the event will benefit the Humane Society of Central Oregon.

​

---
Participating Breweries of PT81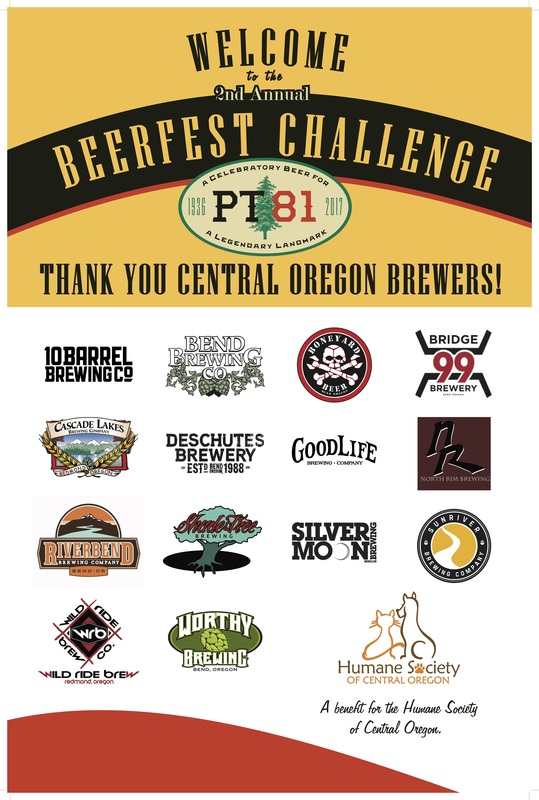 ---
Holiday Tree At Pine Tavern To Benefit Bethlehem Inn

The Pine Tavern hosts a giving tree this holiday season benefiting families and individuals served by the Bethlehem Inn. Last year, more than 2,000 people in the tri-county area were homeless. Your help is needed!
Community members are encouraged to visit the Giving Tree located in the lobby of the Pine Tavern and help make life a little easier this winter for families and individuals in housing transition. Wish requests are represented on the tree by a set of card shaped ornaments listing specific items that are needed on the backside. Grant the wish and deliver the items to the Bethlehem Inn, located at 3705 N Hwy 97, Bend, OR 97701.
Toys, coats, sleeping bags, winter clothing and other donations can also be placed under the giving tree and will be delivered to the Bethlehem Inn. Donations can also be mailed to Bethlehem Inn, P.O. Box 8540, Bend, OR 97708.
For more information, call the Bethlehem Inn at (541) 322-8768.
Click to watch the KTVZ news segment.
---
---
Celebrate the 25th Anniversary of "Breakfast with Santa" Dec 6th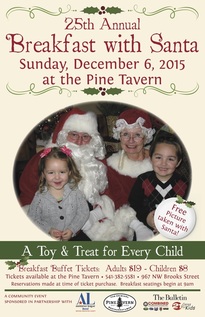 Guests are invited to celebrate the holiday season with family and friends for a breakfast buffet full of holiday cheer in an iconic setting. Children are welcome to visit Mr. & Mrs. Claus and share their Christmas wishes. As part of the ticket price, each child will have a photo taken with Santa and receive a small toy.
Tickets and reservations are available at the Pine Tavern. Reservations will be made at the time of ticket purchase.
Tickets are $19 for Adults and $8 for Children.
Proceeds go toward hosting a separate 'Breakfast with Santa' event exclusively for foster families in Deschutes County. This is the 25th consecutive year that Assistance League of Bend and the Pine Tavern have partnered together offering this benefit to foster children and their host families.
Click here for the KTVZ Article about it!
---
---
Pine Tavern Offers Free Meals to Veterans on November 11th For Veterans Day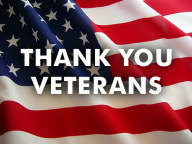 The Pine Tavern proudly rolls out the red carpet for Veterans on November 11th for Veterans Day with a complimentary meal as a small token of appreciation for their service. As an Army veteran himself, new owner Bill McCormick, has been committed to this tradition for the past twenty years at McCormick & Schmick's Seafood Restaurants throughout the country. This popular tradition enabled the restaurants and staff to give thanks to thousands of veterans each year. Bill McCormick, Pine Tavern management and staff look forward to opening their doors with a warm welcome to local veterans and families.
---
---
Bill McCormick Interview about the Pine Tavern Restaurant

Iconic restaurateur and new owner of the Pine Tavern, Bill McCormick, is featured in this local news story.
Click on the link to watch the interview!
https://vimeo.com/140323620
Bill McCormick sits down and chats with the Bend Bulletin.
Read the article here.
---
---
Silver Moon Brewing wins inaugural PT80 Beerfest Challenge!!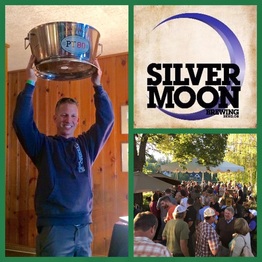 Congratulations to Silver Moon Brewing for winning our first ever Beerfest Challenge!
Thank you to all the great breweries that participated. The new PT80 Signature IPA will be brewed by Silver Moon to celebrate the Pine Tavern's 80th Birthday!
Check back to find out our launch date for this great IPA!
---
---
Gerry Frank recommends The Pine Tavern
---
We Made the List!
Culturetrip.com chose its top 10 best Restaurants in Bend.
Click to see the list.
Thrillist.com article about top iconic Restored Restaurants in the Country.
Read here.